Welcome Anne Tisdell to the Gale Free!
Artist Anne Tisdell is back at the Gale Free, with a solo show for the month of June 2023!
Anne's work has been exhibited previously at the Gale Free in group shows with the Senior Center, but this month, we're able to see a wide range of her work in her solo show, and dive deeply into the world she paints.
A love of plants and animals is clear in Anne's work, as the exhibit features several local, native, and endangered species.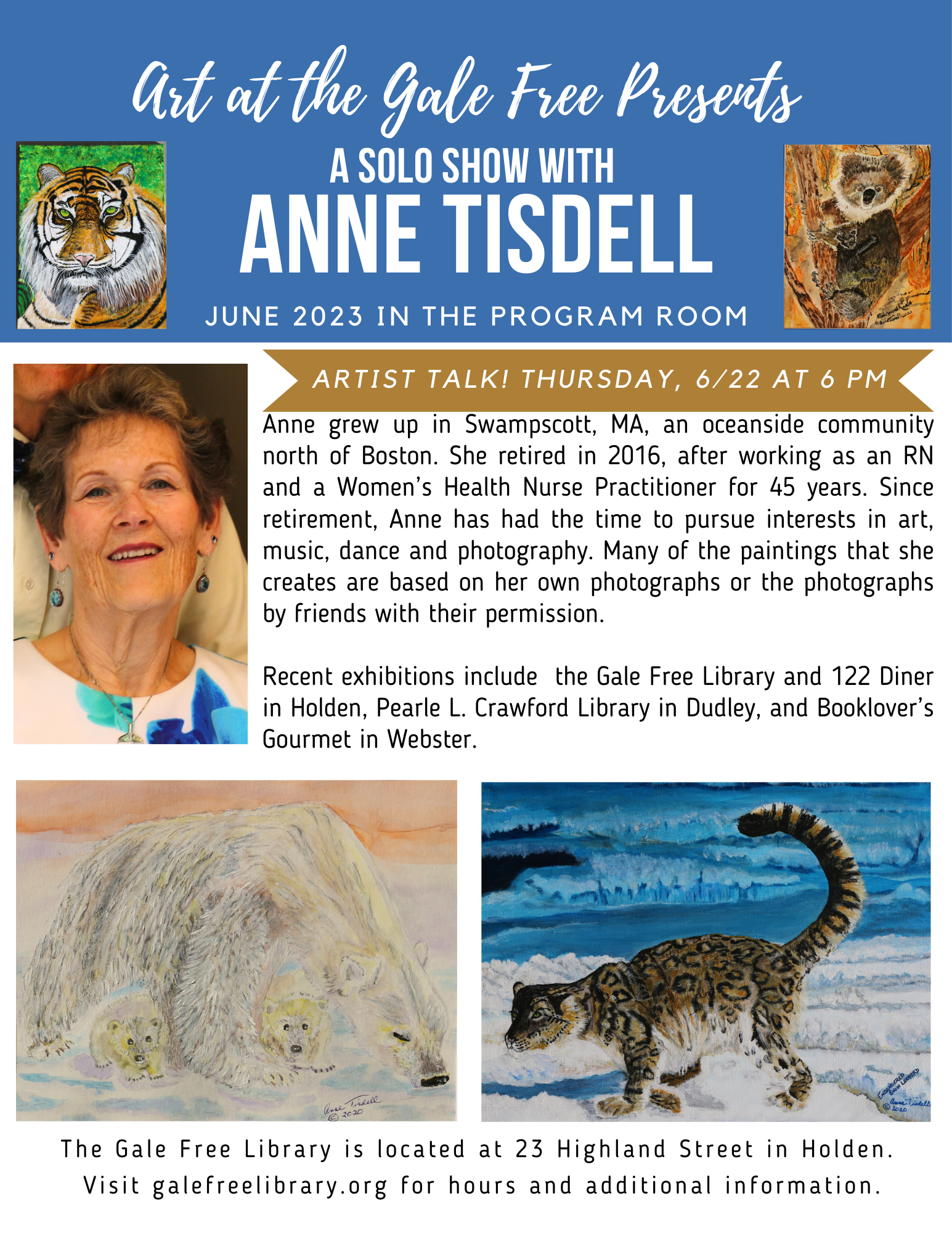 ---
About the Artist
"I have dabbled in art all my life with sketching and drawing. I grew up in Swampscott, MA., an oceanside community north of Boston. Professionally, I have worked as an RN and a Women's Health Nurse Practitioner for 45 years. I had a few courses in art as a teen and took 2 courses at Montserrat School of Art in Beverly, MA in pastels and watercolors with artist/teacher, Mimi Johnson. Retiring in 2016, I have had the time to pursue my interests in art, music, dance and photography.
Many of the paintings that I create are based on my photographs or the photographs by friends with their permission. Artist, Elaine Griffith, (now, Artist, Janice Legare) taught classes at Holden Senior Center in acrylic painting which I started in October 2017. Since then, I have exhibited in various places in Central MA.
I started Art Classes with Bill Griffiths at the Worcester Art Museum in 2018, which brought me to a new level as an artist. He has taught in all mediums and students work in the medium of their choosing. I have exhibited at the Museum's Adult Student Art Exhibit and at Arts Worcester.
In 2018, I started watercolor classes with Charlie Grey in Rutland, MA., a local well-known artist who has been instrumental in improving my watercolor technique.
In July 2021, I participated in an intense workshop under the direction of Artists Mimi Johnson and Mark Hayden in multiple art forms.
I am also a musician and singer, studied vocal technique and have sung in choruses and churches in Greater Boston. The Pandemic in 2020 cut into my exhibition time. Booklovers Gourmet in Webster, MA. was my first exhibit of 2020 and in December 2021. Recently, I have exhibited at the Gale Free Library and 122 Diner in Holden, Pearle L. Crawford Library, Dudley and Booklover's Gourmet in Webster."
-Anne M. Tisdell- 5-10-2023
---
A Preview of Artworks by Anne Tisdell
In addition to paintings included in the flyer for the June show, here are two paintings of local vulnerable endangered species: the New England Cottontail and the Lady Slipper.
Stop by in person to see all 30 paintings in the show!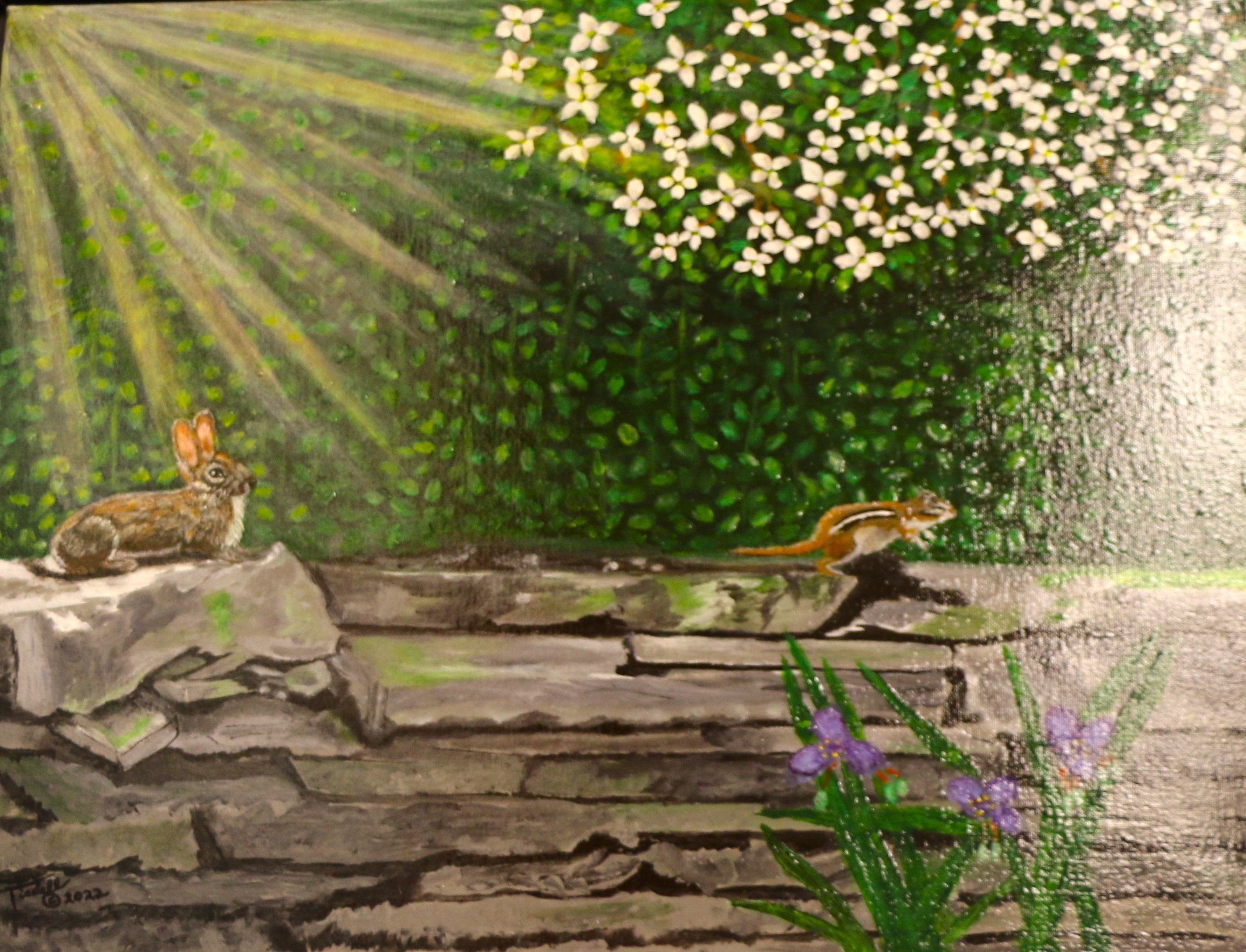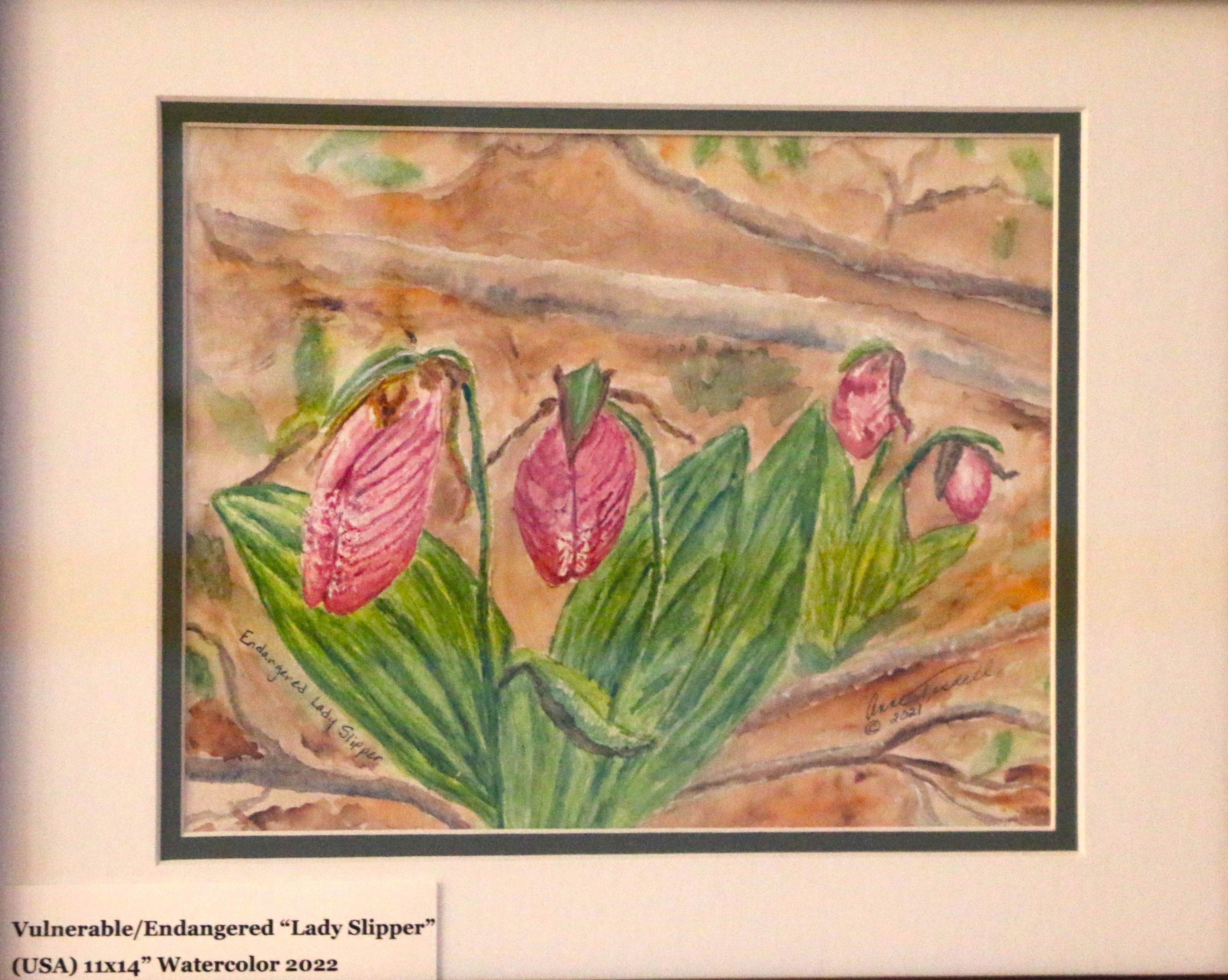 Anne stopped by Upton Community Television to speak about her paintings and her library show. The recording is available for public viewing here.
---